Duterte-appointed J. Martires, after voting vs. Sereno, now a nominee for Ombudsman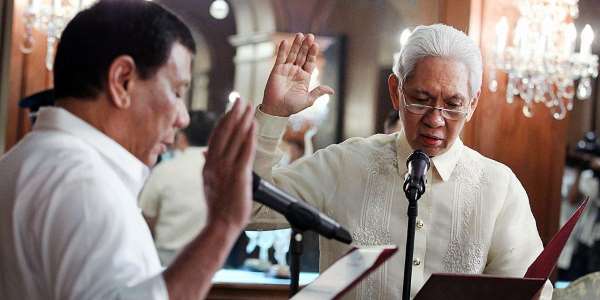 President Rodrigo Duterte appointed him on March 2, 2017. He voted in favor of the quo warranto petition against Sereno.
Supreme Court (SC) Associate Justice Samuel Martires has joined other aspirants to replace Ombudsman Conchita Carpio-Morales. According to records from the Judicial and Bar Council (JBC), Martires was nominated by a former colleague – retired Supreme Court Associate Justice Jose Perez. He accepted the nomination.
SC's Martires joins list of aspirants to be next Ombudsman By: Tetch Torres-Tupas - Reporter / @T2TupasINQ INQUIRER.net / 11:41 PM May 16, 2018 Read more: https://newsinfo.inquirer.net/991533/scs-martires-joins-list-of-aspirants-to-be-next-ombudsman#ixzz5FiKlJFS6 Follow us: @inquirerdotnet on Twitter | inquirerdotnet on Facebook
PHOTO SOURCE: https://pbs.twimg.com/media/DdAKW7wVMAEEfij.jpg
Samuel R. Martires (born January 2, 1949) is a Filipino Lawyer who is now an
Associate Justice of the Supreme Court of the Philippines
. President
Rodrigo Duterte
appointed him on March 2, 2017. Prior to his appointment, he had served as Associate Justice of
Sandiganbayan
from 2005 to 2017. On May 11, 2018, Samuel Martires was one of the eight Justices who voted in favor of the
quo warranto
petition filed by Solicitor General Jose Calida against then-Chief Justice
Maria Lourdes Sereno
. https://en.wikipedia.org/wiki/Samuel_Martires