PRRD fulfills promise, signs national ID law today
NEWS BY THE STAR: President Duterte is expected to sign into law today (Aug. 6) the bill establishing a single and streamlined identification (ID) system in the country.

The event will be held this afternoon at Malacañang's Rizal Hall, on the same day of the ceremonial signing of the Bangsamoro Organic Law.
The national ID law aims to integrate the different government IDs so that card holders will just present one card for all transactions. Proponents of the bill said the law would cut red tape and provide the public additional protection against terrorism and other security threats
SOURCE:
Duterte signs national ID law today; Alexis Romero (The Philippine Star) - August 6, 2018 - 12:00am; Read more at https://www.philstar.com/headlines/2018/08/06/1840060/duterte-signs-national-id-law-today#2CofoUPbCcMECLrM.99
PHILIPPINE IDENTIFICATION SYSTEMS:
A national identification system has been proposed to be implemented in the Philippines. Proponents of the measure meant the system to ease government and private transaction while critics of such proposals has deemed it a potential tool to violate privacy. https://en.wikipedia.org/wiki/Philippine_Identification_Systems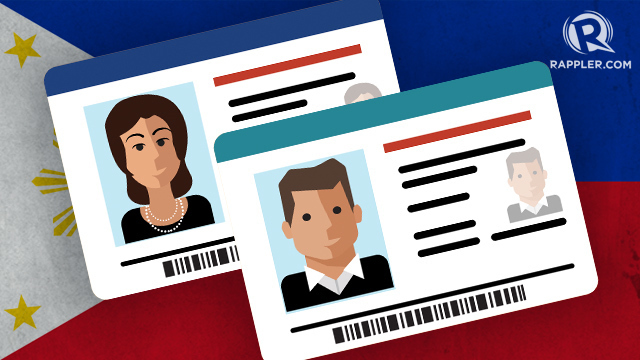 PHOTO LINKED FROM: https://assets.rappler.com/
NEWS BY RAPPLER:
After several efforts under previous administrations, the bill that will establish a national ID system in the country is up for signing by President Rodrigo Duterte. The Senate and the House of Representatives ratified the bicameral conference committee report in the last week of May 2018. The national ID system has been a very controversial issue in the past decades with experts warning that it could violate a person's right to privacy. But government insists that security mechanisms are in place to protect stored information.
SOURCE:
What you need to know about the proposed national ID system; Jodesz Gavilan @jodeszgavilan Published 10:50 AM, June 07, 2018 Updated 3:22 PM, June 10, 2018; https://www.rappler.com/newsbreak/iq/204247-proposed-national-id-system-philippines-facts