Lawyer: Imported ukay-ukay is illegal; 5-year jail penalty
Under Republic Act No. (RA) 4653,[1] in its Section 1, it is "unlawful for any person, association or corporation to introduce into any point in the Philippines textile articles commonly known as used clothing and rags [xxx]." In the vernacular, these used clothing and rags are called "ukay-ukay." Because of this, the Bureau of Customs in Subic destroyed ukay-ukay imported into the Philippines, all worth Php1,500,000.[2]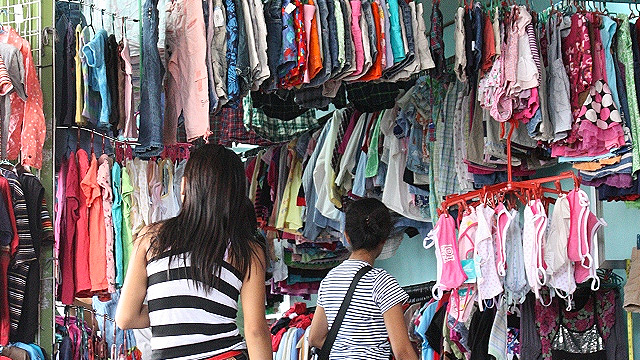 Under said law, any person found guilty of violation of this law may be adjudged with a penalty of fine of not less than Php200 nor more than Php20,000
and
imprisonment of not less than two (2) years nor more than five (5) years. Section 2 of the law mandates that such used clothing or rags must be burned by the Government.
This law was enacted in 1966 to "safeguard the health of the people and maintain the dignity of the nature. However, despite such justification, the law is criticized as anti-consumer and anti-business because it allegedly hinders the start-up and maintenance of ukay-ukay stores, the creation of jobs and potential retail sector investment.[3] There are even attempts to argue against the constitutionality of RA 4653 and proposals to repeal it.[4][5]
There are also arguments saying that the spirit of the law contemplated by its drafters in 1966 no longer applies today because it was "years before the rise of ukay-ukay in the Philippines."[6] Other arguments for the legalization of ukay-ukay importations are taxes, jobs and business, as explained in the March 04, 2014 explanatory note to House Bill No. 4055 introduced by Representative Rufus B. Rodriguez and Representative Maximo B. Rodriguez, Jr.[7]
[1] AN ACT TO SAFEGUARD THE HEALTH OF THE PEOPLE AND MAINTAIN THE DIGNITY OF THE NATION BY DECLARING IT A NATIONAL POLICY TO PROHIBIT THE COMMERCIAL IMPORTATION OF TEXTILE ARTICLES COMMONLY KNOWN AS USED CLOTHING AND RAGS.
[2] See photo above and Page 5 of Port Digest, Vol. 10, Issue No. 71, September 2018. Also see: https://customs.gov.ph/wp-content/uploads/2018/10/PDigestSEPT2018.pdf.
[3] Biana, H. T. (2020). The Philippine Ukay-Ukay Culture as Sustainable Fashion. DLSU Business & Economics Review, 30(1), 154-164. https://www.dlsu.edu.ph/wp-content/uploads/2020/08/12Biana.pdf, citing Guilas (2017).
[4] Bragado, J. I. (2015). Halukay: constitutionality of Republic Act 4653 or the ban on foreign imported ukay-ukay.
[5] Caramto, C. (2014). The Possible Cost of Prohibition of the Ukay-Ukay Trade in the City of Baguio.
[6] Gavilan, J. (2017). Illegal? What you need to know about ukay-ukay. Retrieved November 27, 2019. https://www.rappler.com/newsbreak/iq/fast-facts-ukay-ukay-law-illegal.
[7] https://www.congress.gov.ph/legisdocs/basic_16/HB04055.pdf.