The Supreme Court should allow release of Duterte's SALN
In August 2021, ABS-CBN News reported: "Malacañang on Monday told Vice President Leni Robredo the release of President Rodrigo Duterte's disclosure of wealth rests on the Office of the Ombudsman. This, after Robredo over the weekend called on Duterte to disclose his Statement of Assets, Liabilities and Net worth (SALN). Duterte's spokesman Harry Roque said the President complied with his constitutional duty to submit or file his SALN."[1]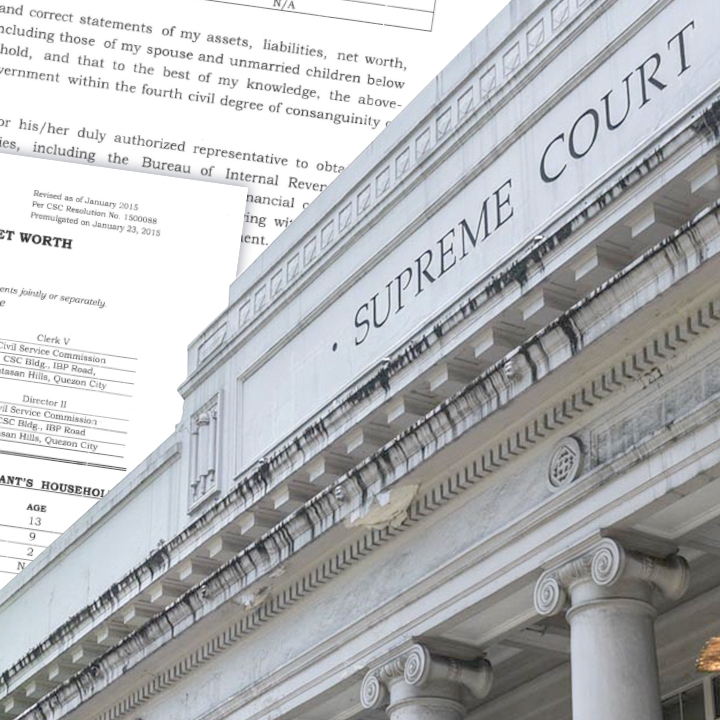 On September 07, 2021, The Inquirer reported: "The Office of the Ombudsman refused to release a copy of President Rodrigo Duterte's statement of assets, liabilities, and net worth (SALN) to requesting lawyers," quoting Atty. Dino de Leon who said: "Bakit takot na takot sila na ipakita ang SALN ng Pangulo? Kung walang tinatago, wala dapat ikatakot. The law is very clear: the SALN of public officials should be accessible to the public."[2]
It can be recalled that, on September 16, 2020, the Philippine News Agency (PNA) wrote a report entitled "Palace urges parties requesting SALN to follow procedure." In said reporting, Philippine Center for Investigative Journalism (PCIJ) said it made multiple requests for the President's SALN but they were "tossed back and forth" between the Office of the Executive Secretary and the Office of the Ombudsman. Roque, however, refused to comment saying he did not know the procedures PCIJ followed in requesting the SALN."[3]
"I don't know what procedure they followed because there is also a procedure provided in EO No. (2) and you have to comply with it regardless of who you are as a requesting party. So just ensure that you comply with the requirements," Roque said, adding that there's a mechanism to be followed so people should "follow the mechanism." According to Roque, another option for requesting parties is to file a petition for mandamus that seeks to compel the president to disclose his SALN. "The remedy is to file a writ of mandamus if you must. But you need to exercise your rights," he said.[4]
However, even if many believe that the President's SALN should be allowed for release on constitutional grounds, optimism should not be high on the success of a petition for mandamus because, in an expanded resolution in the case of Biraogo v. Ombudsman,[4.2] the Supreme Court said: a "custodian such as the Office of the Ombudsman is not bound under every circumstance to allow or to grant the request of disclosure of a public official's SALN to the public. A custodian is not prohibited by the Constitution to regulate such disclosure. Its duty therefore, under the Constitution and applicable laws, is far from being merely ministerial. The Court, in fact, as custodian of the SALNs of justices and judges, has itself laid down some guidelines to be observed for requests made to gain access to these SALNs. It has likewise, on occasions, denied requests due to a plainly discernible improper motive or one that smacked of a fishing expedition."
In short, if the Supreme Court plainly discerns that there is improper motive or there is an attempt at fishing expedition in requests for SALN, it will not issue the writ of mandamus to compel the custodian thereof to release the same.
Others argue that the Supreme Court's ruling is not supported by a reasonable reading of the Constitution which says: "The right of the people to information on matters of public concern shall be recognized. Access to official records, and to documents, and papers pertaining to official acts, transactions, or decisions, as well as to government research data used as basis for policy development, shall be afforded the citizen, subject to such limitations as may be provided by law."[5] There is a correlative state policy on this under Section 28, Article II of the Constitution, thus: "Subject to reasonable conditions prescribed by law, the State adopts and implements a policy of full public disclosure of all its transactions involving public interest."
Unfortunately, the same provisions quoted above give the other side of the argument a basis because the Constitution also says: "subject to such limitations as may be provided by law" and "subject to reasonable conditions prescribed by law."
Two (2) conditions must be present before the right to information may be invoked to access information such as a public officer's SALN:
The information sought is a matter of public concern; and
The information is not exempted by law from the Constitutional guarantee.[6]
Then, it becomes the duty of the State to provide such access in light of the right to information.[7] From here, the debate now centers on whether or not the disclosure of Duterte's SALN can be considered as a matter of public concern and whether or not the Court has the duty to protect public officers from political and other motives perceived to be illicit or illegitimate.
In one case, the Supreme Court acknowledged the possible illicit motives of some individuals who request for access to information. Nevertheless, the Court emphasized that "custodians of public documents must not concern themselves with the motives, reasons and objects of the persons seeking access to the records."[8] Basically, the point is that the manner of inspection -- although regulated -- does not means that access may be prohibited.
While public officers in the custody or control of public records have the discretion to regulate the manner in which records may be inspected, examined or copied by interested persons, such discretion does not carry with it the authority to prohibit access, inspection, examination, or copying of the records.[9] After all, public office is a public trust. Public officers and employees must, at all times, be accountable to the people, serve them with utmost responsibility, integrity, loyalty, and efficiency, act with patriotism and justice, and lead modest lives.[10]
---
[1] ABS-CBN News (2021). After Robredo dares Duterte to show SALN, Palace says ask copy from Ombudsman. https://news.abs-cbn.com/news/08/30/21/palace-duterte-filed-saln-get-copy-from-ombudsman.
[2] Ombudsman denies request of lawyers to get copy of Duterte's SALN. By: Daniza Fernandez - @inquirerdotnetINQUIRER.net / 01:21 PM September 07, 2021. newsinfo.inquirer.net/1484503/ombudsman-denies-request-of-lawyers-to-get-copy-of-dutertes-saln.
[3] Palace urges parties requesting SALN to follow procedure. By Azer Parrocha. September 16, 2020, 12:36 pm. https://www.pna.gov.ph/articles/1115577.
[4] Id.
[4.2.] G.R. No. 254516. February 2, 2021.
[5] Section 7, Article III.
[6] Sereno v. Committee on Trade and Related Matters, G.R. No. 175210 (01 February 2016).
[7] Legaspi v. Civil Service Commission, G.R. No. 72119 (29 March 1987).
[8] Re: Request for Copy of 2008 Statement of Assets, Liabilities and Networth [SALN] and Personal Data Sheet or Curriculum Vitae of the Justices of the Supreme Court and Officers and Employees of the Judiciary, A.M. No. 09-8-6-SC (13 June 2012).
[9] Hilado v. Judge Amor A. Reyes, 496 Phil. 55 (2005), citing Lantaco, Sr. v. Llamas, 195 Phil. 325, 334 (1981).
[10] Sec. 1 Article XI, 1987 Constitution of the Republic of the Philippines.